About us [FR]
Extract from Wikipedia
An amateur radio repeater is an electronic device that receives a weak or low-level amateur radio signal and retransmits it at a higher level or higher power, so that the signal can cover longer distances without degradation. Many repeaters are located on hilltops or on tall buildings as the higher location increases their coverage area, sometimes referred to as the radio horizon, or "footprint".

Wikipedia Encyclopedia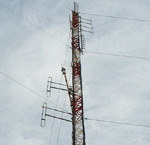 VE2RMP has been moved Read About it»
The VE2RMP repeater has been in the Laurentian region since the early 1970's and it has gone through many changes since it was first conceived. The Groupe Radio VE2RMP Radio Group was formed in 2005 to help pay for the repeater's operating expenses as well as the ancillary equipment upkeep, maintenance and electric consumption.
Since 2005 many changes have come about... We've added and installed a UHF repeater, VA2RMP (at the same site) and have added an IRLP link in 2006 running via a remote station (courtesy of VE2YU) for radio/internet access. Similarly, the VHF repeater has an Echolink node (255571) also running from a remote station (courtesy of VE2ASN) for radio/internet access.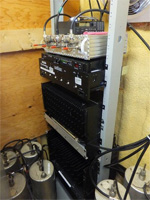 In 2010 the VE2RMP Radio Group acquired a Motorola MSR2000 (100 Watt continuous duty VHF repeater) and took the old GE-Mastr II out of commission.
Activation of the new VE2RMP repeater was planned to coincide with a change of location to a new hi-site location (nearby in the Laurentians) where the equipment is in a much safer, protected and temperature controlled environment.
We hope to (later this year) during 2011, move the balance of the Group's equipment to the new location and have everything up and running there. Hopefully this may be completed before the fall.
Throughout the year the VE2RMP Radio Group hosts a few events such as our annual "Spring Cabane à Sucre" (Sugar Shack) which is usually held in late March, and during mid-summer, we have a "Corn Roast".
And then we have our annual "Christmas Supper" get-together as the year-end wrap-up. During the summer of 2011 we "set-up and partake" in our first Field Day.

Come on in and take a look at our plans. We hope you'll come to help out, participate, negotiate, operate, and most of all – have a great "fun & learning experience" with friends and family.
Thank you for your continued support and enthusiasm in this wonderful world of Ham Radio!